Like alot..
of young men from not so well to do families Nick has bought himself alot of nice things with his, and having a good time. Then he bought the car, and that eats up alot of his cash flow that and stupid Sprint with weird charges on his phone, and never sending a paper bill.. Anyway time is ticking down to graduation, and money is tight, and life happens, so money is tighter. There is a chance he may not make it home before he goes to Korea, and its breaking my heart. I'm not mad, and I won't be if he doesn't make it. I will be sad though. Seems the army doesn't just buy a guys ticket to where he is to go, they will reimburse them, and they might advance it to him, but only from Arizona to Korea, but not to get home, and not from home to a international airport. He can't apply for the advance until orders are in hand and they aren't, His AKO ASK says he is to go to Korea, but his records say projected..Sounds like alot of bull on the armys part, but thats part of goverment I suppose. He is trying to get the money together, so if you got a few seconds, send up a word or two that he is able to figure it out.
---
I really do need to keep up with this
I wont give you excuses I am sure you know them by now.
Nick has 43 days left of AIT, and I am counting down the days. Hopefully all will go according to plan and he will make it home before he goes to his duty station.
Korea will be a whole new experience for him, and as a parent I worry, but I dont think the worry ever stops.
Nick is now PFC Hall, as he has his year in service under his belt as of the 7th of this month. Congrats Nick!
I promise to try and keep this better updated, or maybe make it a starting page for the
forums
I am sure as time approaches for Nick to head to Korea, and at least his first few weeks, that I will be updating the blog more often. Be patient with me. Thanks.
---
I am such a bad blogger
I'm almost positive no one is still reading due to lack of updates but.....
I've been swamped with work as usual and end of school year things. Nicks oldest sister graduated 8th grade this year, and she had a nice ceremony at school to celebrate that.
On the Nick front.
He has finally received his orders (and yes I know they are subject to change ) so the big news around here is that.
The Army is sending him to Korea. Nick is pretty excited about it. Me not so much, but I probably wouldn't be happy no matter where they stationed him because one way or the other he still wouldn't be able to come home often anyway.
We have been talking about setting things up here at home so I can take care of things in the states. His car, his cell phone, things like that. We are also checking into how he will be able to communicate with us here at home while he is there. We have a few months before he graduates AIT so we have a little time. The plus in all this is instead of ten days home he will have 14 days home, of course 3 of those days will be spent driving home from AZ.
This whole army thing can be so overwhelming at times.
---
Boards are Back!
The boards crashed because Miss Know-it-all (me) screwed with the mysql information. We lost it all. Though the dedicated members of this site are willing to re-build, and not kill me.
Come visit us on the
boards
!
In other news, and of course its the most important news ;)
Nick recently passed his PT test with flying colors and now has more time in the evenings. WOOHOO! GO NICK! And we are anxiously awaiting the end of August for AIT graduation to come. I wont be going out there to see him graduate, its just not in the budget, but he / we are planning on him coming home for a few days before traveling to where he will be stationed. Almost time to put a new ticker up.
---
Sorry for the downtime
Not sure what happened to the forums. I am working to fix the problem as soon as possible.
Thanks for understanding.
Angelia
---
Its been a long few weeks.
And again I find myself apologizing for not posting.
I have been super busy with work, and worrying. Worry bout Nick, bout grandmother in law, and household things. Things have finally calmed down and I can explain at least what caused such concern about Nick.
Nick was facing a article 15 week before last. Seems a fellow soldier who lives off base with is family, went thru the chow line (no no since he gets a food allowance on his check) and gave them a false #. When found out he claimed that it was Nicks, and that Nick let him do it all the time. They pulled Nick out of chow and he was scared, stuttered around, and then finally was able to think clearly to let them know that no he didn't let him use his meal card, but had given him a sandwich out of his food. That DS said everything was cool, after two hours of explaining, then the next day, they c-passed Nick, claimed he had changed his story, and that they were going to charge him with accessory to attempt to defraud the government.
Finally friday a week after c-passing him, They told him the real charges, Attempting to decieve a NCO, and then on Monday he went to discuss whether he should accept the charges or fight them.
Nick called me super excited that nightt. All charges dropped. He was off to drive his car around base for the first time in over a week.
I'm not sure what happened with the other guy yet, I didn't get to ask, but after changing his story three times, I do hope that he gets some sort of punishment. My poor kid has watched his p's and q's since he joined. I am so happy for him. Last week was rough on both of us. He was scared to loose half his pay and therefor his car and then his clearance all for giving someone a sandwich..
As a parent I don't think I have ever felt so hopeless. All I wanted to be able to do is help my child, and there was nothing I could do.
Nick if you read this know I love you and am so proud of you. I miss you more than you know.
Love your Mom.
psst! I've updated my links Be sure to check out these other wonderful Military Family blogs:
---
Hi a few days late...
I've spent the past few days wondering bout what to write, some things I just dont feel I can share on the net. I believe it would be a invasion of my sons privacy. And I cant do that, not even for the internets.
Let me tell you what I can. Nick had a PT test this weekend. He did great on his pushups and his situps, and really well with his run. but he was one second short.ONE SECOND! He called up to DS and told him midway through the run that his leg was hurting, and then kept running. After the run DS sent him to weekend medical call (hospital in town) where they thought he had slightly torn a calf muscle. DS didn't c-pass him over the weekend, but told Nick he had to go to Medics on base monday for a profile. If they didn't agree with town, or that his leg was injured, he would be c-pass. Well Nick did go to medics Monday, and they say the muscle isn't torn, but it is sprained, and put him on profile. So his phase is ok.
I bet Nick still would enjoy Mail from home. So if you have his address, send him a note or two. If you dont have the current address email me and I will send it to you.
---
Happy Birthday Nick!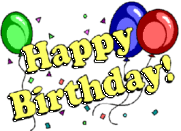 Happy Birthday Nick (4/4). This is the hardest birthday of your life for me. You are 1400 miles away from me and I can't hug you, or suprise you at your birth time.
I do want to take the time to tell you that I love you more than words can ever express, and that I am so very proud of you. I have loved every minute of watching you grow up, and I admire the man you have become. You are a amazing person! Don't ever forget you can do anything you set your mind to.
Happy Birthday,
Love your Mother.
---
Its been a pretty ho hum week
Nothing super new on this front. Nick is happy with his car, and makes a point of driving whenever he can. His insurance has told him, that if he puts me on his insurance it will go down about 50$. I told him I would call and see if it could be done, since I own a policy already, and am named a driver on another. I told him I would allow them to name me as a driver, but not a co-owner, and he is cool with that.
This weekend was one of those were I was super missing him. I just wanted to hug my kid, and well its kinda hard to hug them when they are all the way across the country from you. I try not to dwell on the fact that I cant just see him whenever I want, or that after AIT leave, I'm not sure when I will see him again. But sometimes that thought creeps up, and it can be really depressing.
This week I am also working on getting together his birthday package. I cant do much, but I want to try and make it special for him. So if you have any low cost ideas, by all means share. :)
I also want to remind you to visit the other Parents Miliblogs over there in the right side bar. These parents are going through alot too. Some are just starting out as military parents, and some out there have kids deployed, so go read, and say a prayer for these fine men and women serving our country.
---
Snow in the Desert
Nick started texting me early this afternoon, with the news that it is snowing. Snowing in Arizona, what a deal. Actually he is in the mountains so snow is a very real possiblity as you can see from the photo below. He says the freaking desert can't make up its mind. Hot or cold, wet, or dry, rain or snow. :)
Nick also purchased a car. He was itching to have his own wheels again, and I totally understand. He originally was looking at a 02 Sunfire, and wound up after several disccusions with a 2005 Ford Focus. He did attempt to get a new car loan, but with his age, lack of credit, and the fact he has less than a year with the Army he was turned down, and wound up with this car.
The loan is not one I would of been willing to take on with the terms it comes with, but Nick thought it was worth it. This was the thing I was talking about a few post back. The learning our new roles as Mother and adult Son. I did good though. I told him my thoughts, what I would do in his spot ( I can do that looking back, but if I was his age again, and in his situation I think I possibly would of jumped at it too) and left the decision to him. He asked if I was mad or disappointed. I told him no, but that I didn't want to hear him grumble when he had no money left to do anything with.
As a mother I want to jump out there and protect him from the big bad world and loan sharks such as the one who were the only ones willing to loan a kid money. They see these kids coming and prey upon their naivity, and eagerness. What ever happened to shaking a service persons hand, and giving them a break for protecting our great nation?
Pretty car though don't you think?
Also I wanted to let you all know I had a wonderful birthday. Your wishes sure made the day brighter. And yes Nick called. He didn't forget. He sent me a txt bright and early (sneaking it in between pt and classes risking getting in trouble) and then called me that night. :)
---